WHAT IS THE COBBER?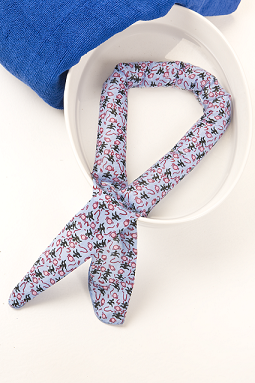 The Cobber is a unique neck wrap made out of polyester/cotton and filled with polycrystals.
When placed in clean water for up to 30 minutes, the crystals absorb the water and expand producing an evaporative cooling system for the user when worn around the neck.
This unique product is based on the same principles as the great Coolgardie Safe and the Hessian Water Bag, both of which were used by Australians for many years prior to the introduction of the common refrigerator.
These two products were the only means of keeping water and basic dairy foods cool through the hot summer climate.
The cooling wrap can be worn around your neck or forehead. By rotating the outside edge toward the neck, evaporative cooling is maximised. Relief from excess warmth is instantaneous.
The Cobber Body Cooling Neck Wrap lowers the body temperature by cooling the carotid arteries of the neck. The material may become warm against the skin but by simply rotating the wrap, the cooling effect is rejuvenated immediately!
Quickly hand wash the Cobber before activating.
Simply soak your Cobber in clean cool water for up to 30 minutes. While it is activating, remove the neck wrap and distribute the crystals evenly.
The Cobber is now ready for use. To keep it cool, regularly turn the neck wrap while you wear it.
The Cobber can be reactivated again and again by soaking in water.
Hang it up to dry after use and the crystals will recover to its original state for easy storage.